Playful Clicks | Children's Photo Exhibition
What is your favorite toy?

How do you play with your family at home? What games do you prefer to play with your friends?
Play is your favorite pastime, and we are sure you know everything about it! So, we decided to reveal its secrets with your help. How? But of course through our… "Playful Clicks"!
Play is an essential element in a child's development, being an integral part of their daily life. It is, after all, the fundamental basis of the philosophy of our Museum: through play we explore, discover, experiment, get to know ourselves and understand everything around us. Play is a child's job, and our job too!
The new educational program of Exploration Children's Museum is full of games, photography and art! Exploration invites all children to become photographers on a special mission: to capture their daily play moments with their camera lens. Our target: to create a digital photo exhibition that will tell our own toy stories!
---
TOYS COME ALIVE
Group photography exhibition of the children who participated in the educational program "Playful Clicks"
grand Opening: Wednesday 5 May 2021 | Duration: Summer 2021
---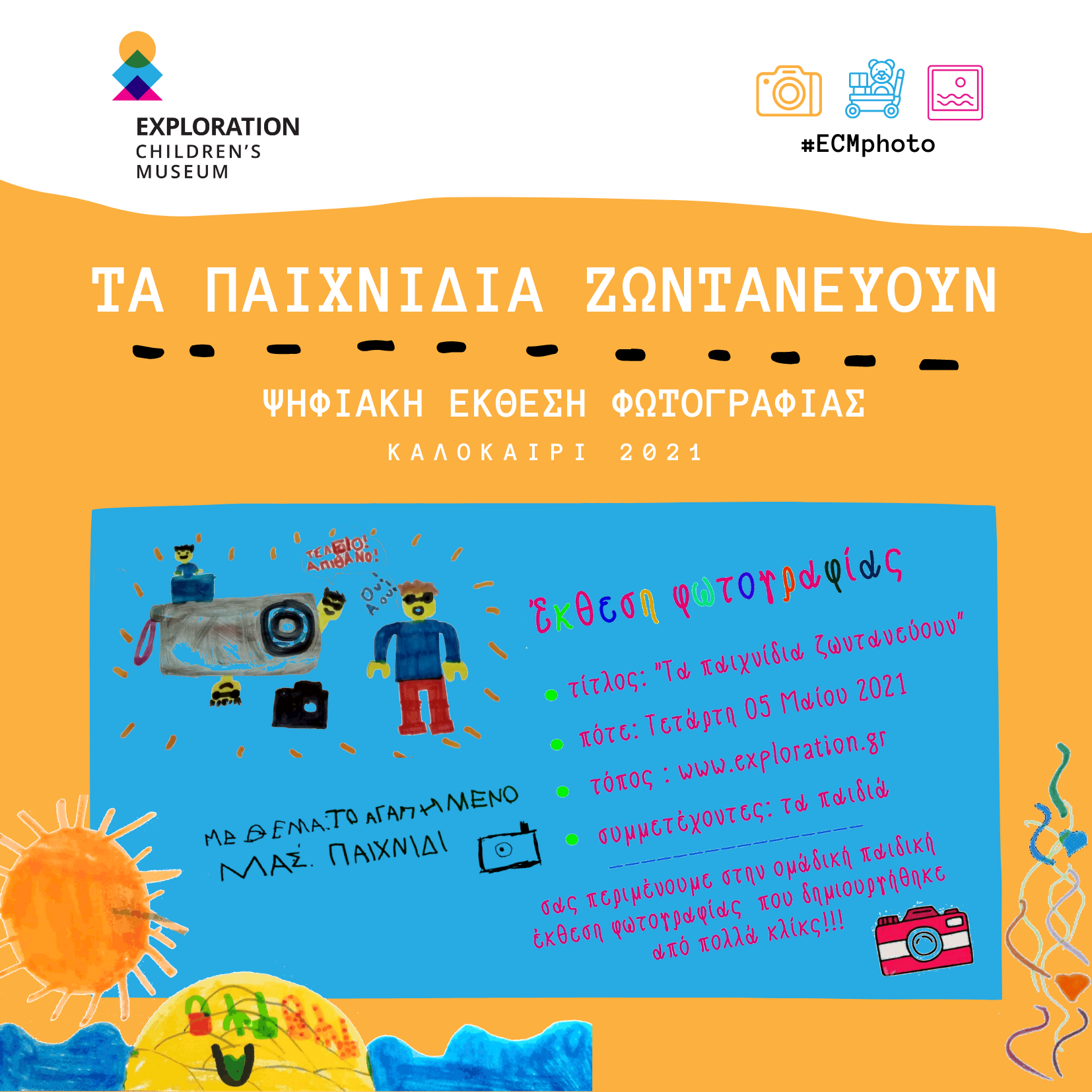 Exhibition Production | Photographers | Curators:
Gioula, Maro, Orpheus-Angelos, Argyro, Maria, Andreas, Vassilis, Socrates, Zoi, Areti, Vassilis,
Manos, Stathis, Lena, Christos, Eleni, Myrto, Danai, Angeliki L., Marianthi, Melina, Dimitris, Angeliki T.
Contributors to the Exhibition: Exploration Children's Museum
Program Coordinator | Director: Ioanna Anagianni, Art and Cultural Mediation / Education
We would like to thank the parents of the children and the Kindergarten "Babyland" for their active participation in the program.
We warmly thank our dear friends of Exploration Children's Museum who honored us with their photo on the wall of our guests.
Exploration Children's Museum © Playful Clicks 2021